Looking Up…and Back
By Tom Smith
Constellations have been observed from ancient times adorning the night sky and marking the seasons of the year. The late winter night sky seems to be especially dark and clear making star-gazing especially satisfying. Right now the cluster of stars, Orion, can be seen in the southern sky. The three bright stars in an almost-straight line are his hunting belt. The two bright stars above are his shoulders and the two bright stars nearer the horizon are his feet. https://www.space.com/16659-constellation-orion.html
The great and handsome hunter of Greek mythology, Orion was first associated with the constellation by Homer (9th or 8th century BC). Orion, the constellation is mentioned in the scrolls of Job and Amos in the Hebrew bible. The constellation is one of the most easily recognizable constellations in the winter sky. As with men of old, looking up to observe and reflect upon these heavenly gaseous spheres can be an experience of wonder.
My dog, of course, does not look up. He pays no attention to the stars in the sky. He only notices the weather, and frankly he doesn't have a clue about that either. But if it thunders loudly, he begins to whimper and whine. But my dog's not alone. My cat also pays no attention to the night sky. Molly could care less. And even if it thunders, she gives it no thought and just continues to sleep as if nothing important is happening. Both Argos and Molly are oblivious to the sky above them.
Of all the many creatures that roam the world, only human beings have the wit to notice comets whizzing through the night sky. Only human beings have the necessary intellectual apparatus to observe their environment in such deep, sympathetic wonder. Only human beings gaze up at the night sky inquisitive and curious. Only human beings marvel at such mysterious astral portents.
The Hebrew psalmist captures this thought beautifully in Psalm 8:
"When I consider your heavens, the work of your fingers, the moon and the stars, which you have set in place, what is man that you are mindful of him, the son of man that you care for him?" (Psalm 8:3 – 4) The upshot of Psalm 8 is to praise God for His majestic name, for God's majesty can be clearly seen in the glory of the heavens. Thus, it is insanely futile for arrogant enemies of God to rebel against His rule. Rather, a fully alive humanity rejoices in its complete dependence upon God.
The psalm relishes in the irony of humanity's mandate to share in God's royal rule over all the earth. The night sky, with all its starry marvels, is but finger play for our Creator God. And in the light of such majesty, humanity fades away into insignificance. And yet God has exulted humanity to serve Him as His vice-regents of creation. Thus, humanity is most fully alive when she exults in her God's glory and power as well as in her childlike dependence and helplessness.
Genesis tells of the creation of the world through a story in which God methodically builds up His creation bit by bit one day of the week at a time. On Day 6 of the creation story God creates a world of living creatures to inhabit His earth. And once they are all made God looks over the earth and sees that it is good. But, while the earth is now teeming with living creatures, God is not yet finished. One creature in particular still needs to be placed within creation to rule over creation, and so God creates humanity "in His own image" to serve creation as His royal steward.
It is as if God looked around on Day 6 at all of the living creatures roaming about in His newly created landscape and noticed that none of them were looking back, none of them noticed their created condition, and none of them acknowledged their childlike dependence and helplessness.
We were created in God's image so that we might notice, not only comets whizzing through the night sky and marvel in deep sympathetic wonder at such mysterious astral portents, but also draw the joyous conclusion: "O Lord, our Lord, how majestic is Your name in all the earth!"
---
View from the Crew
by Nate Simons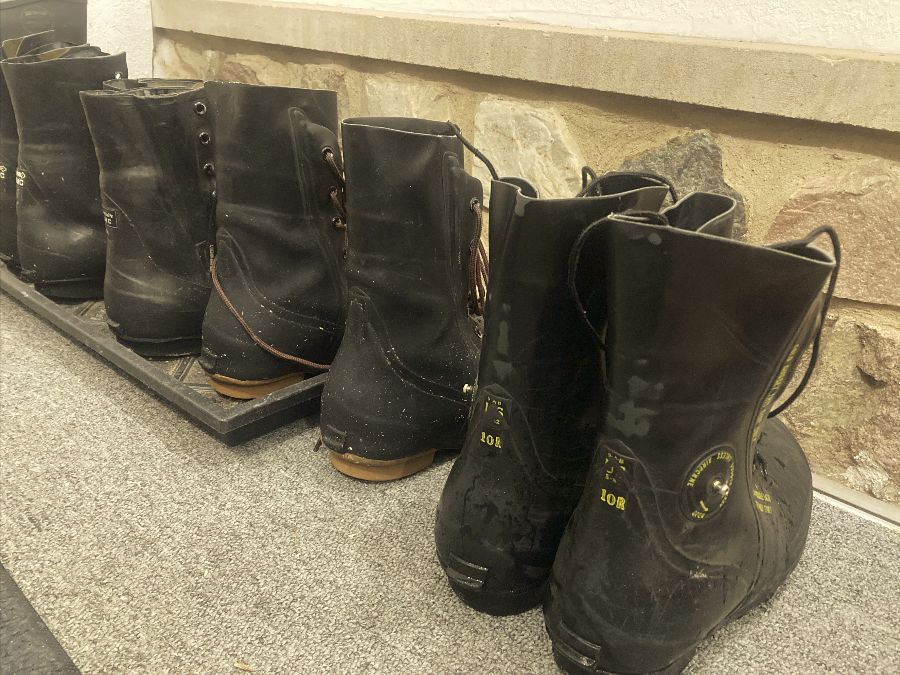 ---
Upcoming Events
Movie Night!
Saturday, March 26th 7 – 8:30pm
Swing by The Presbyterian Chapel of the Lakes for a viewing of Everglades of the North: The Story of the Grand Kankakee Marsh. This 60 minute documentary explores the transformation of a landscape that was once one of the largest wetland complexes in North America.
Bring your favorite snacks or a dish to share. The movie will start promptly at 7:15pm followed by a short discussion.
The Presbyterian Chapel of the Lakes is located at 2955 W Orland Rd, Angola, IN 46703.
Wildflower Hike at La Tierra Sanctuary
Saturday, April 23rd at 2PM
Back by Popular Demand!
Dust off your hiking boots and prepare to shed the winter blues. Join us for an annual rite of passage as we delight in the first flush of spring wildflowers. Violets, hepaticas, and spring beauties…oh my! Bring your walking stick, wildflower guide, and a desire to explore the wonders of an awakening landscape.
From Fremont, travel east on SR 120. Turn right on Cope Rd/1000 E, (depending on your navigator) which is also the IN/MI state line. La Tierra is approximately 1/2 mile south on the west side of the road. A map is available here.
---
Check out the event section of our webpage for updates and cancellations: https://blueheronministries.org/get-involved/events/